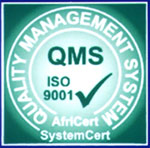 New Delhi, November 25, 2004. Exceeding the Expectations - Advent InfoSoft (P) Ltd - creators of & eIndiaTourism.com, is amongst the first companies in the segment of All Web enabled services - to be awarded ISO 9001:2000 certification.
" As the basic emphasis has always been on
Exceeding the Expectations
- We developed a system focused approach towards enhanced customer satisfaction. Our systems are designed keeping the Customer in Focus - Our Work Process revolves around the Customer - all the functional units are integrated to provide high quality customer focused web services" said Mr Vinayak Sinha, CEO, Advent InfoSoft Pvt. Ltd.
eIndiabusiness.com
&
eIndiaTourism.com
has been one of the fastest growing business directories since their inception & focus towards customer satisfaction. Moving from a truly monopolistic market to a perfect market competition situation, Advent InfoSoft (P) Ltd is well equipped with reference to the system & process to handle all generic / customized web solutions.
Advent InfoSoft (P) Ltd
- with a strong qualified & experienced team of 55 - individuals, Offices in Delhi & Bombay & Network of Resellers across India, over 800 + clients & 1200 + Web presentations, Our focus always remained - the Customer Satisfaction.
"Everybody directly & indirectly associated with us have a reason to celebrate - ISO 9001:2000 certification is just another way to tell everybody that our system knows the system & we care for them" said Mr Sinha.
eIndiabusiness.com
eindiabusiness.com is one of the fastest growing B2B directory in its own segment. With over 600 product categories & currently a database of over 15000 companies online, the directory & the database is growing & improving.
eIndiaTourism.com
eIndiaTourism.com is one of the most successful travel platforms today - over 800 travel web presentations, supported by over 140 + high performance support portals including allindiaguide.com, indiatravelnet.com, indiatourism.co.uk, indiatourism.com, 123indiatourism.com etc.,
advent.co.in
Advent InfoSoft (P) Ltd has been the active in the area of Web services & application providers. With about 800 + Clients & 1200 web presentations, Growth has been the only motivator for all 55 + individuals directly associated with us.
Reference URLs:
=============
https://www.advent.co.in
http://www.eIndiabusiness.com
http://www.eIndiaTourism.com